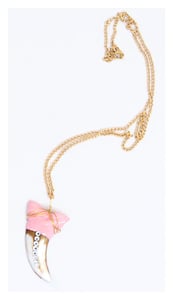 $

46.00
You've never seen anything like this before. In DoeEyed's signature style, this necklace is all kindsa badass disguised by some slick pink paint and delicately placed rhinestones.
This saber tooth pendant is cast in resin, dipped in paint, wire-wrapped, and topped with rhinestones. And the icing in the cake? The dual-sided clasp-closure and extra long, luxurious curb chain make this a necklace that can be worn short (on model), or oh-so long.
As always, a DEAPT original design.